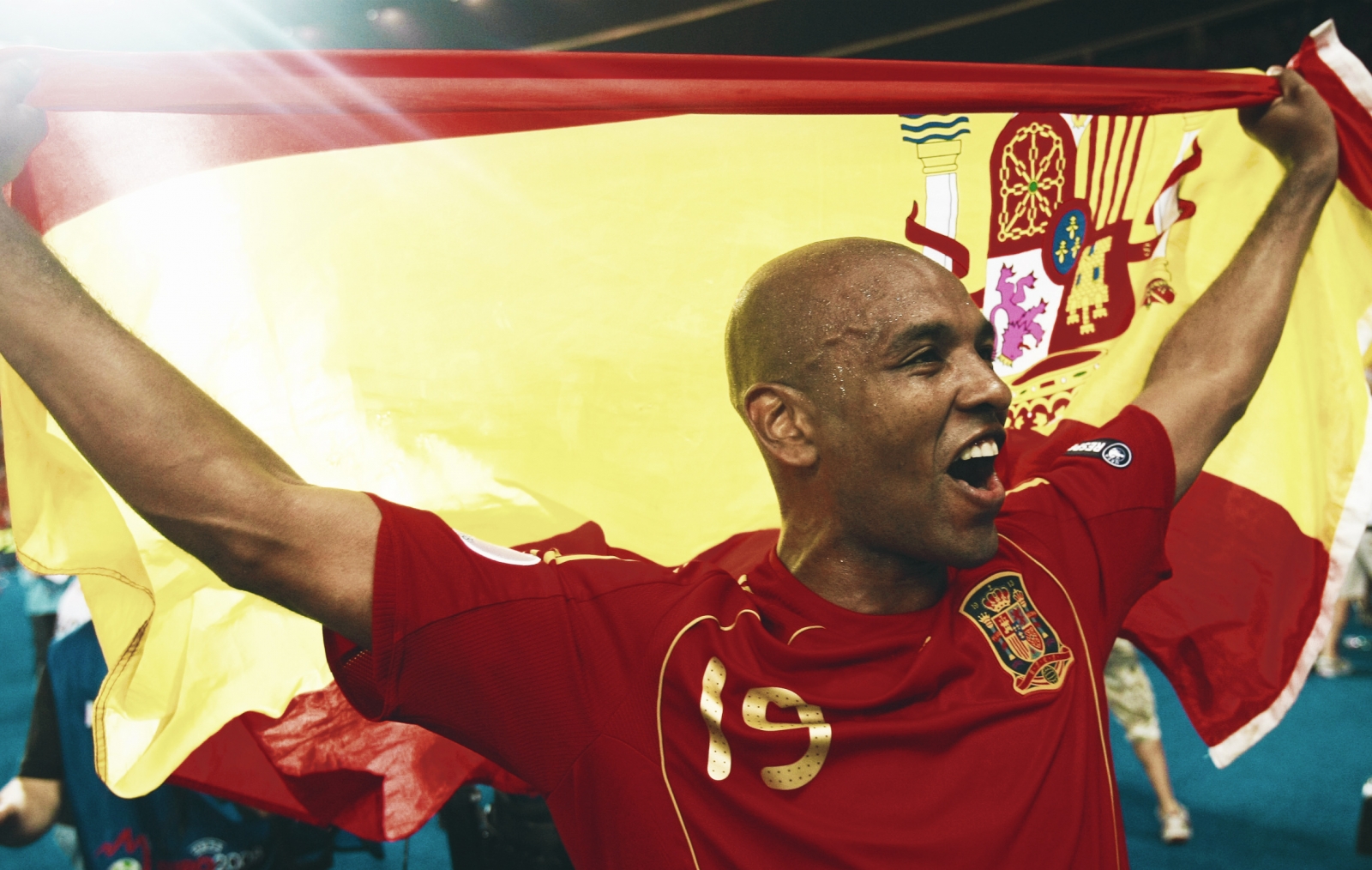 One of the greatest idols in Villarreal history and a member of that memorable Spanish team that won the Euro 2008, Marcos Senna does not need any presentations. A very technical and dynamic midfielder, he had his "boom" on European soil, almost achieving the historic achievement of taking the Villa to a UCL final. Although he has been left out of the 2010 World Cup, Senna is quite revered in Spain. We chatted with the former player and played on various subjects.
1. Recently the injuries that his former teammate at Villarreal, the midfielder Santi Cazorla, suffered in the ankle, losing 8 centimeters of his foot was shocking. Have you been in contact with him at some moment? Would you retire yourself in his place?
Yes, I was with him. He suffered a lot and continues to suffer. I also suffered a lot with very complicated injuries, but I recovered and returned to play. In his case, I dont know if he will return to the pitch, but he is trying to recover from everything that is happening right now.
2. How much affect you, stay out of the 2010 World Cup, which tournament that your national team become world champion? Which was the real reason, on your opinion, they did not call you?
Obviously it affected me a lot  hadn´t been called to the 2010 World Cup. At first it hurt a lot, but little by little I was getting over it. I think it was a time that I wasn´t play with the same level of 2008, but I have been in all the games of the classification for the tournament. I was in the thirty ones, but at the last minute I do not know what the coach thought, that he decided to let me out. Everything has already been overcome, obviously.
3. You were part of a historic São Caetano squad that was in the Libertadores final, losing to Olimpia. Wich diferent things that team have to go that far? Why do you think, in the golden years, SC did not get a big title ?
We had an extraordinary cast with players who knew what the experienced players wanted, the union was incredible and we were managed to achieve something that great historical teams could not. It was a shame we did not consecrate ourselves with the title. We had the title in our hands, but it escaped. It was a very beautiful moment, I really enjoyed this group.
4. The semifinalist squad of Europe formed by Villarreal is remembered until today by fans and admirers. Was that the best team you ever played? How was live with superstars like Pires and Riquelme ?
It was a spectacular moment where I also liked the team. We arrived at a very high level, with a team coming from a city of 50 thousand inhabitants, we had big names like Riquelme and Pires, already mentioned by you. We really enjoy the company of these big names in world football. We managed to reach the semifinals of the Champions League, many historical names failed to reach this stage. It was perhaps one of the best teams I've played in my entire career. I was also in Corinthians where we won the Brasileirão and then the Clubs World Tournament and then the Paulista Championship, was one of the best teams I played at club level as well.
5. Cosmos is knowned around the world as the team in which Pelé ended his career. You play there at the end of your career as well, what are the references that the club still having in relation to the King of football? Can you say that he really changed the sport in USA?
I had the privilege of playing in a team like the New York Cosmos, a historic US team. Obviously, the name of Pele does not only sound in New York Cosmos, sounds in the whole world. We are talking about the King of Football and obviously the history of football in the country has changed after him, no doubt.
6. You started in Rio Branco, passing through America, Corinthians, Juventude and São Caetano, until you go to Europe. At some point it crossed his mind that you would be established in Europe and would become the first Brazilian to win an Eurocopa? How much does it mean to you?
Obviously, the illusion of a Brazilian player is to make the transition to Europe and succeed. I started to dream about this and in the end I managed to make a transition to Europe and I was successful, it is very difficult to leave your home country and succeed in the old continent. For me, it was something historic and unforgettable won a title with the Spanish team.
7. At some point did you think that the recurring injuries that plagued you when you arrived on the old continent could shorten your career?
At no point did I think the injuries could have ended my career. I always had a strong mindset, I always believed that I could recover and return to my normal. Fortunately, I recovered and had a quiet career. I was able to enjoy football until I got tired and decided to stop.
8. Was Villareal's relegation the worst moment of his career as a player? Talk a little bit more about the fall of the yellow submarine.
Yes, on a professional level, it was one of the worst memories, because it is a club that had a very active budget comparing with the others and a very good team too, we did not think we could fall. We entered the relegation zone in the last round. There was trust and we knew we could save ourselves, which did not happen in the end. It was a very bad moment for all of us. But Villarreal is a model club and knows the things very well. In the year after the first year of the second division we were able to return, in first.
9. Nilmar, who played with you at Villarreal, was diagnosed with depression and took a break from the pitch. As a teammate, did he already have symptoms of this disease? How do you see these cases of depression becoming more frequent in football?
I was very surprised. I was with him for three seasons, he seemed as a strong person mentally. I was very surprised to know that he is suffering with depression. I think it's a disease that needs to be taken care of and treated. And I hope he recovers as fast as he can and continues to enjoy his football for many more seasons.
10. You have one of the gates of the Villa stadium with your name, it is one of the most respected icons of the Spanish club, but it is little remembered by Brazilian clubs, did not happen through your head acting here again when leaving Spain?
I adapted very well in Spain. I never thought about going back and acting in Brazil. The treatment with me at Villarreal, even nowadays, is spectacular, always was. It never occurred to me to play again in Brazil.
11. It was a pleasure to finish this interview, leave a message for your fans and make your final considerations!
I also want to thank all my fans. They followed me from the beginning to the end. A hug to everyone!